Entrepreneurs Edition
The second edition of The Other Hundred focuses on the world's everyday Entrepreneurs. It captures the reality that small and medium-sized businesses, rather than tech billionaires or elite MBAs, contribute the majority of the world's jobs, including half of all jobs in Africa and two-thirds in Asia.
The Other Hundred Entrepreneurs are skyscraper painters in India, tech workers turned food hawkers in China, salt farmers in Australia, the owner of a rural internet café in Brazil and many more.
The book offers an alternative to the view that most successful entrepreneurs were trained at elite business schools. Here are people who have never written a formal business plan, hired an investment bank, planned an exit strategy or dreamt of a stock market floatation. Some work for themselves, others employ a few people, still others a few hundred.
The book's 100 stories were chosen from a pool of 10,000 images shot in nearly 150 countries. Also included are half a dozen essays from acclaimed writers the world over - Tash Aw, Ian Johnson, Robyn Bargh, Eliane Brum, David Goldblatt, Tolu Ogunlesi, Yasmine El Rashidi and Huang Wenhai.
The Other Hundred Entrepreneurs has been featured in numberous media outlets including the South China Morning Post, Forbes.com, Bloomberg and EurasiaNet.
The book is published by Oneworld Publications in London and is available from March 2015 in bookstores worldwide and on Amazon.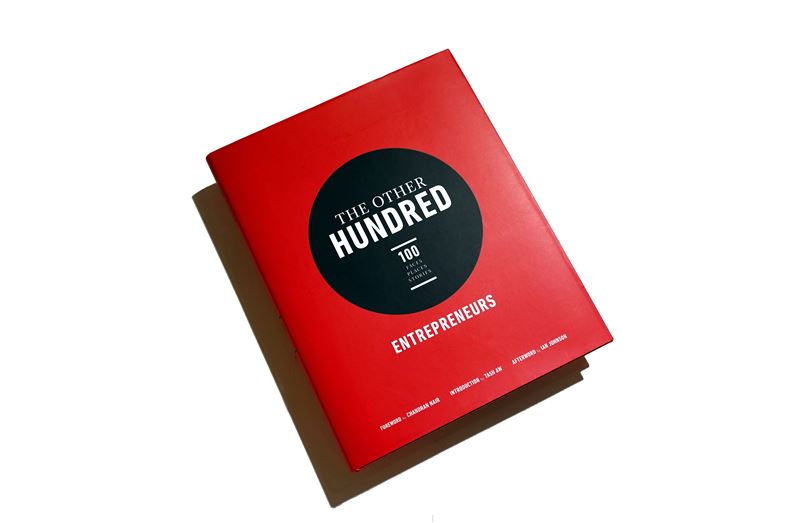 Sarajevo, Bosnia & Herzegovina
For more than sixty years, Muslims from across Sarajevo, the capital of Bosnia and Herzegovina, have marked the end of each day's fasting during Ramadan by eating somun brought from the city's Poricanin Bakery. Today run by Amela Mujezinovic, who took over the business in 1995 from her father, the bakery has made somun, a kind of pitta bread popular across much of the eastern Mediterranean region, as its current site since 1953. ( © Elisa Chiu)
Jala-Jala, Philippines
Balut - a boiled duck's egg containing an almost fully developed embryo, usually eaten at night accompanied by salt, chili, garlic and vinegar, is one of the Philippine's most popular street foods. Jeff Matawaran, 48, set up his balut-processing business in 2007, beginning with two workers and a single incubator. Today, his business in Jala-jala, a town 75 kilometres south-east of Manila in Rizal province, serves shops and restaurants in nearby towns and cities. Married with two children, Jeff also raises ducks and grows rice on a small lot. ( © Maria Francesca Avila)
Kinsasha, Democratic Republic of Congo
The Kimbanguist Symphony Orchestra - Central Africa's only symphony orchestra - can trace its origins to 1992 and the collapse of a local airline in Zaire, as the Democratic Republic of Congo was then known Armand Diangienda, a pilot with a love of Western classical music and a dream of becoming a conductor, lost his job. Finding himself with time on his hands, he taught himself to read music, learned a couple of instruments, and formed a group with a few other members of his church. Today his group has 200 volunteer members who get together up to six days a week, rehearsing and performing in an empty warehouse across the road from Armand's home in Ngiri-Ngiri, a district in central Kinshasa, the capital of the Democratic Republic of Congo. Using a mixture of home-made and donated instruments, the orchestra's repertoire ranges from Berlioz to Beethoven. ( © Felix Masi)
Nyanza Lac, Burundi
Dieudonne Kwizera, 37, runs a tailoring business making shirts and suits in Nyanza Lac, his home town in southern Burundi. Dieudonne started the business in 2013, shortly after returning to Burundi after 15 years of exile living in a refugee camp in neighbouring Tanzania, where his family had fled to escape ethnic violence. After returning to Nyanza Lac, he and three other returnees opened a small tailor's shop, sharing costs and sewing machines to keep their costs down. Today, along with the money made by his wife from a small restaurant she opened next door, Dieudonne earns just enough money to support his own five children and two children from his father's second marriage. ( © Chris De Bode)
Causeway Bay, Hong Kong
Raymond Lun runs his fashion store on Haven Street, a quiet back street just a few hundred metres from the heart of Causeway Bay, one of Hong Kong's busiest shopping districts. A fashion designer and tailor, after graduating from fashion design school, he worked with a local tailor for six years, then went and lived in Australia for a year. Returning to his hometown five years ago, he decided to launch his own brand of tailor-made suits and leather shoes for men. The first several months were tough for a "no-name" fashion designer, but slowly his designs and craftsmanship attracted recognition. Now in his mid-30s, his clients include a handful of local celebrities and performing artists. ( © Leo Kwok)
Dinaran, Iran
Near the village of Dinaran in the mountainous border region of north-west Iran's Chaharmahal-va-Bakhtiari province, Gholam Hossein and his family farm land beside a deep river canyon. Twice a year their work is disturbed by the arrival of tribes of Bakhtiari nomads moving their herds of sheep, goats and other livestock from their winter quarters to their summeer quarters each spring, then back again each autumn, a journey of 400 to 500 kilometres in each direction. With the nearest river crossing 15 kilometres away, Gholam and his seven sons decided a few years ago to offer these nomads a quicker way of getting to the other side, building a cableway using steel hawsers and pulleys. Gholam's system can transport up to 1,000 livestock daily. He charges a third of a dollar for each sheep or goat carried, with people and their possessions transported for free. ( © Seyed Esmail Mousavi)
Lome, Togo
Maggy Lawson, the owner of Manatex, is a successful trader of pagne, the colourful wax-rinted fabrics that in Togo and other West African countries are as essential to local life as rice and palm oil. Few people are sucessful enough to make a fortune trading pagne, but Maggy's mother was one of them, so is Maggy. She buys fabric from Vlisco, a giant textile firm based in the Netherlands which despite its nationality is closely associated with traditional West African textiles having worked with merchants for decades. However, with 12 yards of Vlisco's fabric costing the same as the average monthly wage in Togo, it can only be used for pagne bought by middle and upper class customers. So Maggy has gone a step further than her mother and created her own production house, Manatex, that uses her own designs to produce cheaper products aimed at ordinary Togolese. "Vlisco produces for the elite. I produce for the people," she says. ( © Flurina Rothenberger)
Rotterdam, Netherlands
Schorem is an old-school, men-only barbershop in Rotterdam, specialising in traditional haircuts and hot-towel razor shaves. Most of its 15 staff are tattooed, and each has his own slick hairstyle, beard and mustache. Leen and Bertus, friends for 20 years and barbers for 24, set up Schorem in 2011 as a place where as well as having a haircut or a shave men could talk about football and ex-girlfriends, read gentleman's magazines, or just quietly relax. Their shop has no appointments system and offers just a limited range of traditional cuts - 22 in total. A haircut takes between 30 minutes and 45 minutes; a shave around 20 minutes. The only tool sits staff use are scissors, thinning scissors, clippers and straight razors.
"We aren't hairdressers, we're barbers. We don't want or have anything to do with hairdressing. We cut and shave men and that's it, no bullshit," say Leen and Bertus. ( © Anne-Marie Vermaat)
Lima, Peru
Mabilon Jimenez Quispe survives in one of Lima's poorest areas thanks to his handicraft, making retablos, a folk art derived from traditional Catholic church art. The floor of his workshop, on the roof of his family's house in the Juan de Lurigancho neighbourhood of the Peruvian capital, is cluttered with small wooden retablo boxes, some unpainted, other decorated with colourful flowers. The interiors of most of the boxes are filled with Biblical scenes in which Jesus, Mary and Joseph are portrayed as indigenous people, and lamas replace camels. ( © Jesper Klemedsson)
Braga, Portugal
In his workshop on the outskirts of Braga in northern Portugal, Domingos Machado, 78, has crafted thousands of stringed instruments for Portuguese musicians. His first teacher was his father, who showed him how to make simple guitars and ukuleles that could be sold cheaply at local fairs and markets. Soon, however, he realised that he wanted to work in a different way, devoting time and artistry to each of his creations, producing high-class instruments that would be appreciated by the very best musicians. He moved to Porto and apprenticed himself to an 80-year-old master craftsman. Returning home, he married and opened his own workshop, then spent decades establishing a reputation as one of Portugal's leading makers and restorer of guitars, mandolins, ukuleles, violas, and other stringed instruments. ( © Rui Farinha)
Fryazino, Russia
At their workshop in Fryazino, a small town just outside Moscow that once lived off its military industry, Boris Bazhenov and Alexander Bobin are creating a small collection of industrial sculptures inspired by the steampunk movement. Calling themselves Artmechanics.com, the pair painstakingly create giant fish and other animals with inner workings made of cogs and wheels, fins that wave and jaws that rise and fall. Their flagship model, "Fish House", draws its inspiration from a traditional tale: "A long time ago, a gigantic fish swallowed a person. Unwilling to accept his fate he decided to turn the fish into his house," say Boris and Alexander. Close scrutiny of the model, made from oak, lime wood and burnished metal, reveals a chimney poking through the fish's upper skin. ( © Vladimir Flonov)
Dakar, Senegal
Fatou Sylla nad Fatou Camara founded their own car repair business, Fatou Fatou Mercedes Garage, after completing a mechanics training programme. Forced to spend their first few years moving from one temporary premises to another in Dakar, the Senegalese capital, they no whave htier own garage, where they work with three male employees. They would love to employ more women, but finding an with the right qualifications and experience is hard. Dakar's Centre for Professional and Technical Training on average graduates just one woman a year from its car repair programme. ( © Anthony Kurtz)
Orchard Road, Singapore
Allan Lim 42, is the founder of Comcrop, an urban farm spread across a 6,000-square-foot roof-top on Singapore's downtown Orchard Road. Comcrop, a social enterprise, uses "aquaponics" - a system of hydroponics - the process of growing plants in sand, gravel, or liquid with the use of nutrients - that uses broken down bio-waste from fish and aims at recreating the eco-system of a freshwater lake. The farm's output includes a range of herbs and vegetables, including basil, peppermint, spearming, and several varieties of tomatoes. Allan, who is also CEO and co-founder of Alpha Biofuels, a bio-diesel business, and co-founder of The Living! Project, a collective of artists, social innovators and designers graduated from Singapore's Nanyang Technological University in 1999 with a degree in engineering. ( © Richard Koh)
Llanellen, Wales
Angela and Robin Gardiner are the owners of AJR Poultry, a family-run farm in Llanellen near Abergavenny, a town in south-east Wales, about twenty miles from the border with England. They started the business ten years ago, and now raise chickens, ducks, geese and turkeys. Their farm shop, managed by their son James, sells local produce. Angela and Robin, who work seven days a week, also offer a "chicken-sitting" service for owners of poultry who want to go away on holiday. ( © Andrei Nacu)
Harare, Zimbabwe
Based in Highfield, a suburb of the Zimbabwean capital, Harare, Jeffrey and Cleopas make low-cost fences that local firms and individuals can afford to buy. Instead of buying wire, they source their raw material from worn-out truck tyres bought from nearby garages and workshops. They burn the tyres, usually at night to avoid agents from Zimbabwe's Environmental Management Agency, then retrieve the wire from the ashes the following morning. Instead of renting a space in which to work, they pitch up with their tools by the roadside, weaving their fences in the open all day before finishing them off with a coat of silver-coloured paint. Often Jeffrey and Cleopas earn less than Zimbabwe's minimum wage, but they go by. ( © Nyadzombe Nyampenza)
Zurich, Switzerland
For generation, Finnish women have made rugs from recycled fabrics and other materials using skills learned from their mothers. Anna Saarinen continues this tradition in Zurich, a city she moved to from Finland more than two decades ago. After a career in marketing and raising a family, in 2010 she bought a loom and installed it in a tiny studio. Drawing inspiration from old rug designs and the colours of Finnish nature, especially those of the nightless summers of the far north, she began to create collection of carpets. In May 2014, she opened a showroom in Zurich where she now ha stwo looms. ( © Sanna Heikintalo)